Teflon bellows (Teflon bellows) is made by special processing methods,Steel wire braided hoseIt can be used to replace graphite, ceramics, glass and other pipelines with low mechanical strength, and can be used as tank cars, containers, reaction kettles, discharge pipes, for pipeline dislocation connection, or to balance the pipeline displacement and size change caused by climate or other reasons, or to eliminate the vibration of high-frequency machinery. It can also be used as tubular reactor and heat exchanger in special occasions.

Performance of steel wire braided hose
1. The wall thickness standard is 0.5-2.5mm, and the fatigue times are 210000.
2. Pressure resistant corrugated hose with mesh sleeve can be provided.
3. Corrugated hoses with reinforcing ribs and mesh sleeves are available.
4. It can provide a variety of connection methods, including oil connection, threaded connection, flange connection, quick connector and direct connection with pipe fittings, which are fixed with pipe clamps and metal wires.

Product customization specifications: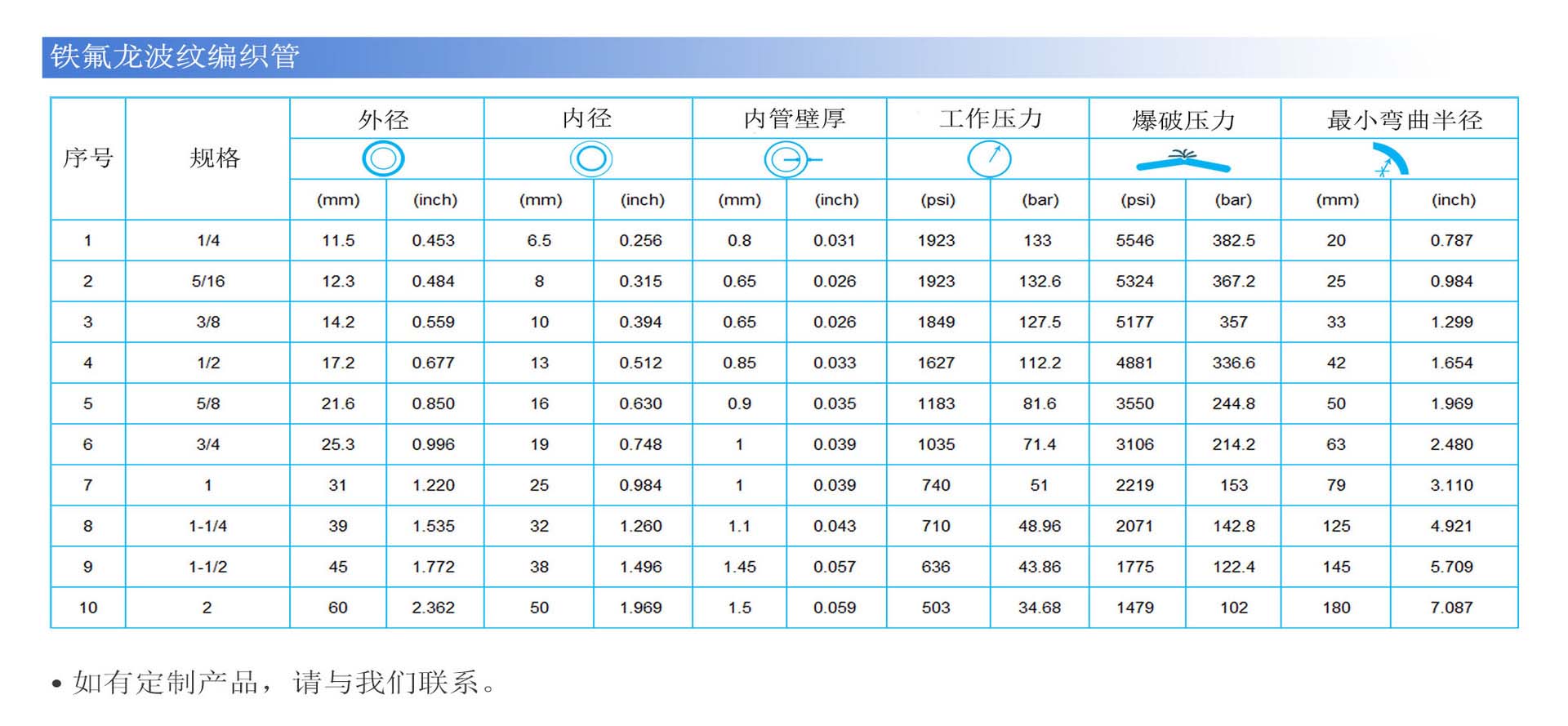 Jiayuxing company is an enterprise integrating R & D and production, specializing in the production of all kinds of sanitary ware, air pressure, hydraulic rubber pipes, water cooling pipes, refrigerant pipes, stainless steel hoses, steel wire braided pipes, braided pipes, rubber pipes, industrial and medical endoscope conduits, precision hardware lathes, stamping parts, plastic products, etc. Our products are widely used in home appliances, automobiles, aerospace, medical and other fields. At present, the company has 20 middle and senior technicians, nearly 15 managers and nearly 100 employees. At the same time, the company continues to introduce various advanced production equipment at home and abroad, such as advanced rubber mixer equipment, internal mixer, open mixer, pin type cold feed extruder, microwave vulcanized rubber extrusion production line, composite rubber pipe production line, electrothermal vulcanization tank, high-speed knitting machine, high-speed winding machine, pipe buckle machine, high-speed punch, automatic lathe, spark machine, pressure tester, 2.5-dimensional, hardness tester, aging test box High and low temperature impact tester, tension tester, rotor free sulfur transformer and other series of equipment. In order to improve formula research and development, production introduction and control (error proofing), the company has synchronously introduced experimental internal mixer, trainer, molding machine and batching error proofing system. We have a professional R & D team, from the development of rubber raw materials and formulas to the product realization process, so as to fundamentally meet the needs of customers.
In order to improve the product quality and management level of the company and meet the needs of customers, the company successfully passed the ISO9001-2000 international quality management system certification in October 2008. In February, 2010, it successfully passed the certificate renewal and certification audit of iso9001-2000:2008 international quality management system.
The company always adheres to its business philosophy of "excellent quality, accurate delivery, reasonable price and considerate service", and all employees of the company wholeheartedly serve every customer with the enterprise spirit of "initiative, innovation and responsibility".