Steel wire braided hoseThere are high-pressure hose and low-pressure hose. The type of low-pressure hose is larger than that of high-pressure hose. Several types of high-pressure hose are easy to remember.


1. Product structure type

It is mainly composed of liquid resistant inner glue layer, middle glue layer, 2 or 4 or 6 layers of steel wire winding reinforcement layer and outer glue layer. The function of the inner glue layer is to make the transmission medium bear pressure, protect the steel wire from erosion, and the outer glue layer protects the steel wire from damage( φ 0.3-2.0 reinforced steel wire) layer is the skeleton material, which plays a reinforcing role.

2. Product use
Steel wire braided rubber hose is suitable for conveying stone oil base (such as mineral oil, soluble oil, hydraulic oil, fuel oil and lubricating oil) with certain pressure (higher pressure) and temperature in engineering construction, lifting transportation, metallurgical forging, mining equipment, ships, injection molding machinery, agricultural machinery, various machine tools and mechanized and automatic hydraulic systems of various industrial departments.

3. Product features
① The hose is made of special synthetic rubber, which has excellent oil resistance, heat resistance and aging resistance.
② The rubber hose has high pressure bearing capacity and excellent pulse performance.
③ The tube body is tightly combined, soft to use, and has little deformation under pressure.
④ The hose has excellent bending resistance and fatigue resistance.
⑤ The fixed length of steel wire wound hose is 20m, which can be made within 50m as required.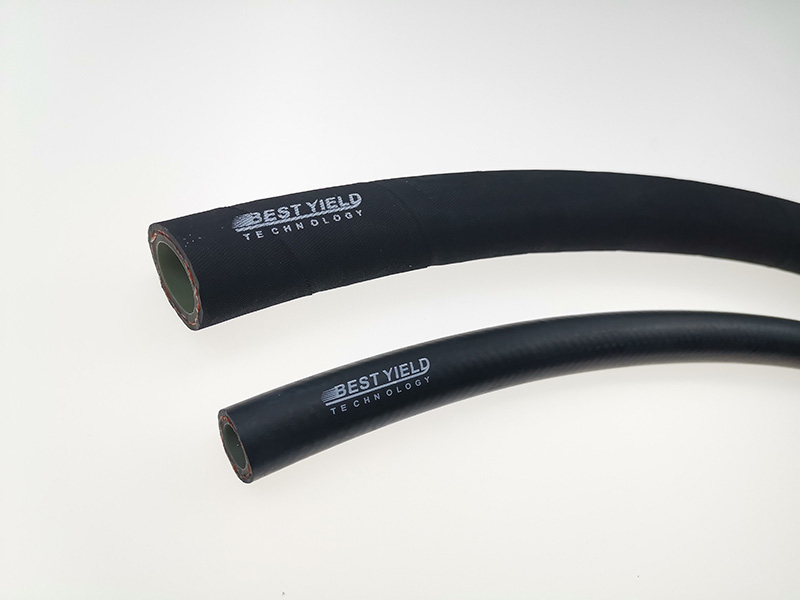 The professional high-quality steel wire braided hose has the properties of long service life, small bending radius, high pressure resistance, fatigue resistance and so on. It mainly relies on the reinforcing layer to bear the pressure, and is formed by bonding the mastic with the inner and outer rubber layers. Because the steel wires in the same braid are in contact with each other, when under dynamic pressure, friction will occur between the steel wires due to different expansion and contraction, affecting their durability. The winding pipe is a working layer composed of two layers with different winding directions, and there is intermediate glue between the two layers, so there is no cross between the two layers of steel wires in the same working layer, so it will not form stress concentration or friction and wear due to the cross bending between steel wires under dynamic pressure.