Special shaped rubber pipe is extruded from rubber pipe blank by extruder → parking (winding disc or roller) → coring → cutting → threading → steam vulcanization in vulcanizing tank → demoulding molding. Due to the variable structure and different length of the special-shaped pipe, it is necessary to cut and cut the head according to the actual needs. Therefore, the technical scheme we adopted:
Step 1: extrude the rubber tube blank by the extruder;
Step 2: put the rubber tube blank into the electric heating oven for pre vulcanization;
Step 3: put the pre vulcanized rubber tube blank into the cutting machine for online cutting;
Step 4: threading the cut rubber tube blank;
Step 5: hang the rubber tube blank after threading into the steam vulcanization tank for molding and vulcanization;
Step 6: demould the vulcanized rubber tube to obtain the finished product of special-shaped rubber tube.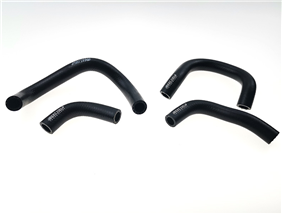 In order to provide you with high-quality special-shaped rubber pipes, we always adhere to its business philosophy of "excellent quality, accurate delivery time, reasonable price and considerate service". All employees of the company wholeheartedly serve every customer with the enterprise spirit of "initiative, innovation and responsibility".

Quality policy:Full participation, quality first, green production; Prevention first, continuous improvement, customer satisfaction.
Quality objectives:Production defect rate ≤ 0.4%, customer complaint less than 1 piece per month
Business philosophy:Good quality; Accurate delivery date; Reasonable price; Considerate service.
Corporate spirit:Initiative, innovation and responsibility!
All colleagues of the company will warmly welcome friends at home and abroad to visit and guide!